Dan Laib Studios also offers entertaining and informative hands-on workshops that walk students through drawing basics up to the more advanced concepts of expressive drawing.  In addition to the group instruction, this program provides one-on-one instruction and Q&A time with a working professional artist.  This workshop can be tailored to teach youth, teens, or adults.   Tables and chairs are needed; hand-outs, pencils, and paper for drawing will be provided by the instructor.  The program is ideal for libraries or other after school student programs.  These classes are offered year round and are best suited a maximum of thirty students.  (Scroll down to see workshops that are offered.)
There are several workshops that work better as series, which is noted in the workshop descriptions. You will receive a price break for multiple workshops scheduled. There are also price breaks for booking duplicate same-day workshops. Individual workshops can also be booked without the whole series.  To book Dan, please scroll to the bottom of this page and fill out the form.
Dan Laib was an absolute pleasure to have as a program presenter! He worked wonderfully with the teens. He was sure to interact with each teen individually as they came in and remembered all of their names. His communication was very open and inviting, which had even the shyest in the group talking with him. Dan is wonderful at teaching and goes step by step through the process. He is willing to re-explain things or even give an example of something that was not gone over. He was very well prepared and had wonderful handouts to go with the program. We all enjoyed the themed music that he had on his iPod to go with the program. When the program ended and the kids were still drawing his was willing to hang around longer and assist them. Many of the teens even wanted to show him their own personal artwork and get his opinion. I, and the teens, are looking forward to him coming back for his next program!
Tegan Anclade, Lake Villa District Library – Drawing Sports Manga program
"Dan Laib presented Drawing Basics for 23 children at the Schaumburg Township District Library.  The workshop was informative, engaging, and hands-on.  Dan demonstrated excellent rapport with the children, and many of the participants commented as they left that they enjoyed the program.  I already have plans for him to return and present more programs." 
-Allison Bies, KidsZone Program Coordinator, Schaumburg Township District Library
"Mr. Laib was very easy to work with, on time to the class, and worked very well with the young adult audience.  He also brought a very interesting and diverse presentation on drawing.  Many examples were shown at the class and many were also drawn right on the spot.  I especially liked how Mr. Laib broke down the drawing techniques into simple shapes and techniques first, from the concept of parallel lines, to looking at any type of object and breaking out the individual shapes in an object, to then going back and adding detail after working with the basic sketch.  All along the way, the young adults had pencil and paper and were able to draw along with the presenter creating their own works of art that they could take home with them after the class was completed.  I highly recommend this presenter.  Thank you, Dan Laib, for presenting this class at the Fox Lake District Library!"
-Alex Svec, Young Adult Services Librarian, Fox Lake District Library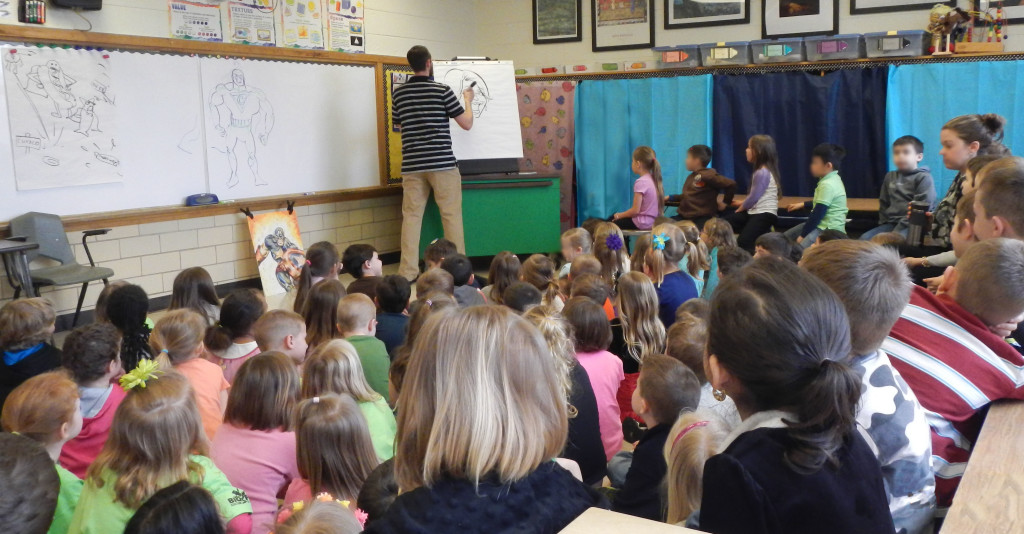 Some of the places Dan has led workshops:  Aurora Public Library, Elmhurst Public Library Central Library, Fox Lake District Library, Genoa Public Library District Central Library, Lemont Public Library, Lake Villa District Library, Wilmette Public Libra, Palos Heights Public Library, Geneva Public Library District, Glenview Public Library, Hufford Jr. High, Manteno Public Library, Lyons Public Library, Three Rivers Public Library District Central Library, Flossmoor Public Library, Helen M. Plum Memorial Library, Homewood Public Library, Orland Park Public Library, Matteson Public Library Central Library, Morris Area Public Library, Morris Watercolor Guild, Morton Public Library, Indian Trails Public Library District, LaSalle Public Library, Harvey Public Library District, Prairie Trails Public Library, Schaumburg Township District Library, Steger-South Chicago Heights Public Library, Troy Shorewood Elementary School, and Vernon Area Public Library District.