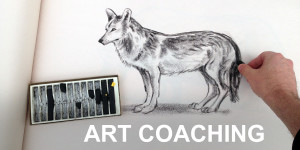 Ready to move your art to the next level?  Have you considered that the next step for you as an artist is one-on-one instruction and critique?  When you work directly with an experienced artist, you're able to get the special attention and interaction that you wouldn't get from a book or class.  You will have the opportunity to get your artwork assessed by a professional artist and receive helpful feedback, valuable information tailored to your specific needs.  The best part is you can decide what the focus will be for each session.
Dan has a many years of experience as an artist and has the heart of a teacher.  He has led numerous projects in which he has worked one-on-one with artists, offering direct critiques but always in a spirit of encouragement.  Constantly refining his own art, Dan has received much instruction and critique himself, giving him a sharp eye and critical problem-solving skills needed to move his artwork forward.
No matter what kind of art you focus on, Dan can be your guide toward reaching the next level.  The sessions will consist of a combination of instruction and critique, but the majority of the time will be spent on the concepts that you want emphasized.  Here are the specific areas of drawing that Dan can help with:  realistic drawing, also great for painters of all kinds, cartoons, caricatures, and comic book.